Announcements
 We are sorry that there are no future breeding plans at this time.
Sandypoints is still breeding and taking inquiries for her waitlist.
 updated Oct. 15, 2023
About Us
Welcome to Willow River Cattery. We are located in Western Wisconsin near the Willow River State Park. Our small cattery is focused on the Old-Style Siamese cat. I never planned on getting into breeding cats. It all started with reaching out to Sandy Engle of Sandypoints Cattery to adopt an Old-Style Siamese for a pet. We eventually adopted two kittens, a chocolate and a seal, from Sandypoints. The seal point stayed with me and the chocolate point was adopted by my youngest sister. Long story short, our family instantly fell in love with them and with Sandy being my mentor, I had the motivation and confidence to get into breeding Old-Style Siamese. I work closely with Sandypoints Cattery which is located in Pennsylvania.  My goal is to connect with other TICA breeders and have litters occasionally to help preserve this ancient cat breed. Our cats and kittens are lovingly raised in-home sharing their spaces with me, my husband, and our Dobermanns (my other pet passion).  See my Info page for more details.
Old-Style/Thai/Wichienmaat
All these names refer to the same cat. TICA (The International Cat Association) recognizes Old-Style Siamese as Thai because the Siamese category belongs to the modern Siamese which have extreme angular features. See links TICA Siamese and TICA Thai for a visual comparison.  Some things about the Old-Style Siamese that I love that are different from other cat breeds:
They are a natural breed

Short fur & single coated – they shed much less than a domestic short hair tabby

Their color points are due to a mutation that is temperature sensitive. This mutation activates in colder areas of the body which is why the coldest part of the Siamese body is where their coloring is darkest

Personality – very vocal/talkative, adventurous, and highly social with their family
For more information and history about Old-Style Siamese and other cats of Thailand, see TIMBA and PREOSSIA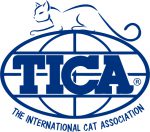 This cattery has NOT been inspected by and is not endorsed by The International Cat Association, Inc.
*The statement above is required for use of the TICA logo on my website
**TICA standing rule 903.4.1.5